During her twenty-six years of executive entertainment experience, Ms. Cutler has participated in every creative and business aspect of motion picture development, production and distribution. After graduating Cal Arts Film School, she started her career as assistant to legendary Agent-turned-Producer Jerome M. Zeitman at 20th Century-Fox where she assisted in the development of numerous projects including her first produced feature, the sci-fi thriller DAMNATION ALLEY.
Following 20th-Fox, she held various executive positions including Director of Literary Acquisitions for Mona Moore & Associates, Director of the Story Department for Marble Arch Productions, Director of Literary Affairs for Columbia Pictures Television and Vice-President, Promotion and Marketing for Connoisseur Video.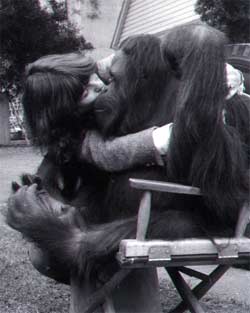 Devo on movie set with one of her stars
Always with an eye towards directing, she completed several short films while still a studio executive, including TEA BREAK FOR MRS. PENROSE starring Annie Potts (DESIGNING WOMEN). Over the years she has become an internationally recognized and award-winning director of stage and screen. She honed her directing skills working with many notable teacher-directors including Milton Katselas, Roy London, Ted Post, James Pasternak, Ivanna Chubbuck and Stella Adler. She observed directors on numerous sets from Hill Street Blues, Richard Donner on Lethal Weapon 2 to Eddie Murphy's directorial debut HARLEM NIGHTS. She assisted actor turned director John Saxon on DEATH HOUSE, which she also co-wrote for Nick Moreno productions. The film starred John Saxon, Dennis Cole and Tony Franciosa.
Ms. Cutler produced and acted in A STREETCAR NAMED DESIRE starring Ed Harris at the Odyssey Theatre Ensemble. Additionally, she began directing/producing the first of five plays. All of them were comedy-dramas and were either world or domestic premieres. Her productions received critical acclaim: THE CLOSED DOOR won her the Drama-Logue Critics' Award for best direction. DUSA, FISH, STAS & VI was lauded by L.A. Times critic Sylvie Drake as one of the year's ten best productions.
Additionally Ms. Cutler teamed with producer Steven Bakalar to form H2 Productions which was responsible for four produced films. H2 produced in association with Live entertainment THE SUBSTITUTE, a $15 million-feature. Ms. Culter was on board as Executive Producer for the action-thriller which starred Tom Berenger, Ernie Hudson, Diane Venora and William Forsythe. The movie garnered the number two spot its opening weekend. THE SUBSTITUTE was directed by Robert Mandel (FX, SCHOOL TIES). She was also Executive Producer for HBO's SUBSTITUTE 2, starring Treat Williams. Ms. Cutler co-wrote and directed PEACOCK BLUES, a short film for Showtimes' prestigious Discovery Program starring William Forsythe (THE UNTOUCHABLES) and Poppy Montgomery (BLONDE) that won Best Film and Audience Favorite at Moondance International Film Festival 2000.
Following her success with PEACOCK BLUES she was hired by Academy Award nominee Ross Spears to direct multiple narrative sequences for the award-winning PBS documentary TELL ABOUT THE SOUTH. Her film NOT AFRAID TO LAUGH, co-produced with Emmy award winning producer Roberta Cantow, won an Award of Distinction from the Communicator Awards 2000.
A respected screenwriter, she has collaborated with Emmy and Academy Award winning writer-producers Roger Lewis (THE PAWNBROKER, SHAFT) and comedy veteran Everett Freeman (MARJORIE MORNINGSTAR, SECRET LIFE OF WALTER MITTY). Her produced credits include episodic TV where among others she worked with Heather Locklear and William Shatner on ABC's TJ HOOKER. Her feature and television projects have been optioned by numerous companies, including INTERSCOPE COMMUNICATIONS, CHARLES FRIES ENTERTAINENT, and TRIMARK PICTURES. Most recently she has been hired by Acropolis Entertainment to write the feature BEST FOR LAST that she is also attached to direct. Her series HOLLYWOOD TATTOO which she is attached to write and direct is being packaged by William Morris Agency.
Ms. Cutler has extensive creative and business relationships within the industry. These include relationships with acquisitions executives at major and minor distribution companies, including Dreamworks SKG, Miramax Films, Columbia-TriStar Motion Picture Company, Twentieth Century Fox-Searchlight, TNT, USA Films, and HBO among others. Additionally, she travels around the world, lecturing, speaking and teaching at film festivals and film markets about the creative and business aspects of moviemaking. Most recently she has been approached by the Irish Film Industry to teach for a new government "Development Executive Program."